Islamabad
Nawaz Sharif's return to Pakistan's politics has started shaking Prime Minister Imran Khan's chair. Imran Khan's ministers and assistants who have come under Damage Control have opened a front against Nawaz Sharif. He has even described Nawaz Sharif as an agent of India. PM Imran himself has made objectionable statements about Nawaz Sharif many times. Now his political advisor Shahbaz Gill has made a sensational charge.
Claim to meet PM Modi in secret
Batting on a political pitch on behalf of Imran Khan, Shahbaz Gill has claimed that Nawaz Sharif had a secret meeting in Nepal with Prime Minister Narendra Modi. He said on Saturday that Nawaz Sharif is not anti-Pakistan but he is a narrow-minded businessman. He asked if any Pakistani businessman can meet PM Modi? But Nawaz Sharif had a meeting with PM Modi in Nepal without informing the State Department. However, he did not say when the two leaders met.
Accused of meeting at Indian Embassy in London
PM Imran's political advisor Shahbag Gill did not stop at this. He went two steps ahead alleging that his government was also aware of Nawaz Sharif's recent meetings inside a country's embassy in London. Gill alleged that when Pathankot incident took place, Nawaz Sharif made a statement, just like India's businessman Jindal. He asked where was the statement of the Prime Minister of Pakistan regarding the attack?
Pakistani army afraid of Nawaz Sharif? Imran Khan bans speaking
Claim – Nawaz's commercial relations with India
Shahbaz Gill claimed that Nawaz Sharif and his family had personal business connections with Indians. He also benefited from these contacts. He alleged that, therefore, Sharif had not produced Allama Tahir ul Qadri, leader of Pakistan Awami Tehreek, in court. Qadri is said to have revealed about Nawaz Sharif's alleged links with India.
… then I would have sacked the army chief, the mockery of Pak army's Imran Khan
Nawaz besieged for not giving information to Foreign Ministry
Shahbaz Gill said that Nawaz Sharif should explain why he did not give access to officials of Pakistan Foreign Office during his meeting with Narendra Modi. Nawaz Sharif, wearing a red turban, sent a message of goodwill to PM Modi, adding that Modi tweeted that he was very impressed by Nawaz Sharif's reception at Lahore Airport.
Nawaz Sharif's confession, 'Babar' made by stealing US missile technology
Question to Nawaz – how can I call Modi home?
Gill asked Nawaz Sharif how can PM Modi be invited to someone's house? He said that when he is asked why he is doing business with the enemy, he gets upset. Explain that while returning from a foreign trip, PM Modi visited the house of the then Pakistani Prime Minister Nawaz Sharif. Pathankot was attacked shortly thereafter.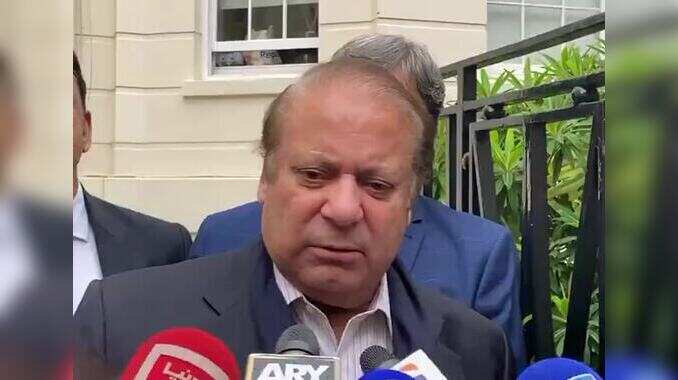 Pakistan made Babur missile by stealing technology of American Tomahawk, video of Nawaz Sharif goes viral
.